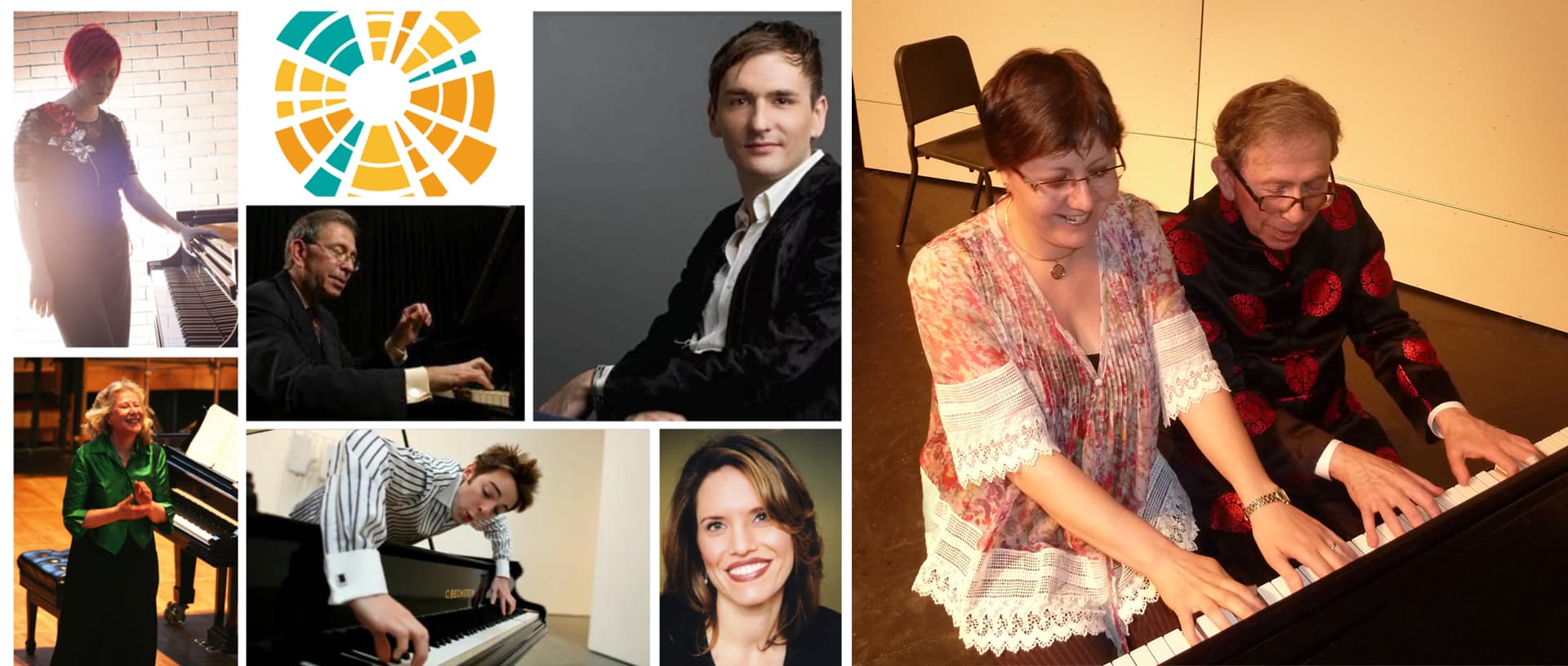 Tomorrow! Lowenthal's Legend Concert
---
Music Academy of the West in Santa Barbara
Tomorrow!
Lowenthal's Legend Concert in Santa Barbara.
I am in Santa Barbara. Can't wait to perform in this amazing concert, sharing the stage with the legendary Jerome Lowenthal and the great pianists Ursula Oppens, Carmel Lowenthal, Vassily Primakov, and Evan Shinners! I will perform the World premiere of Dribble by Harold Meltzer and selections from Six Rags by Lewis Spratlan. A very nice article with our interviews just came out in Voice Magazine. Article text is copied below or you can read the article online here. Check it out!
Voice Magazine
March 3, 2023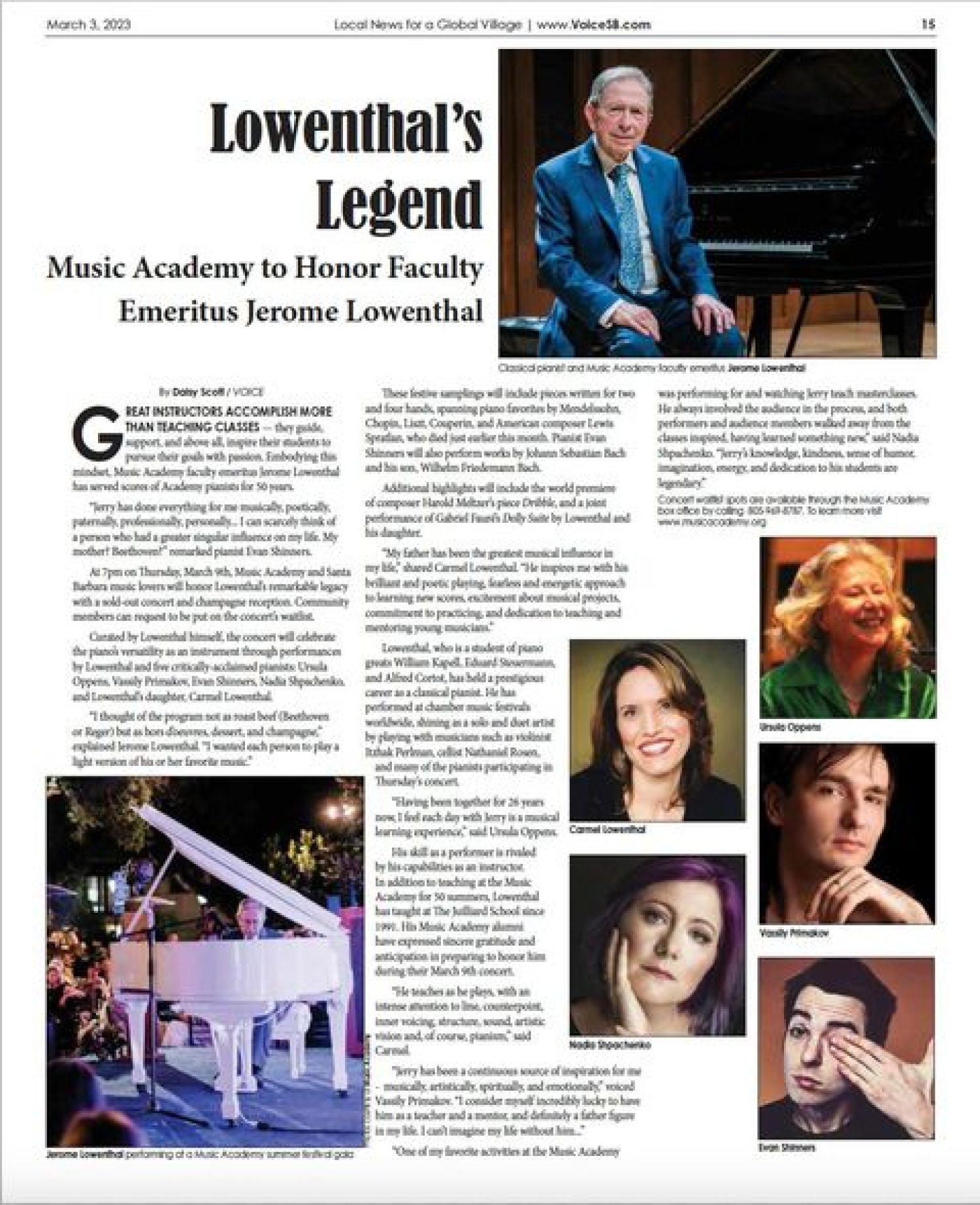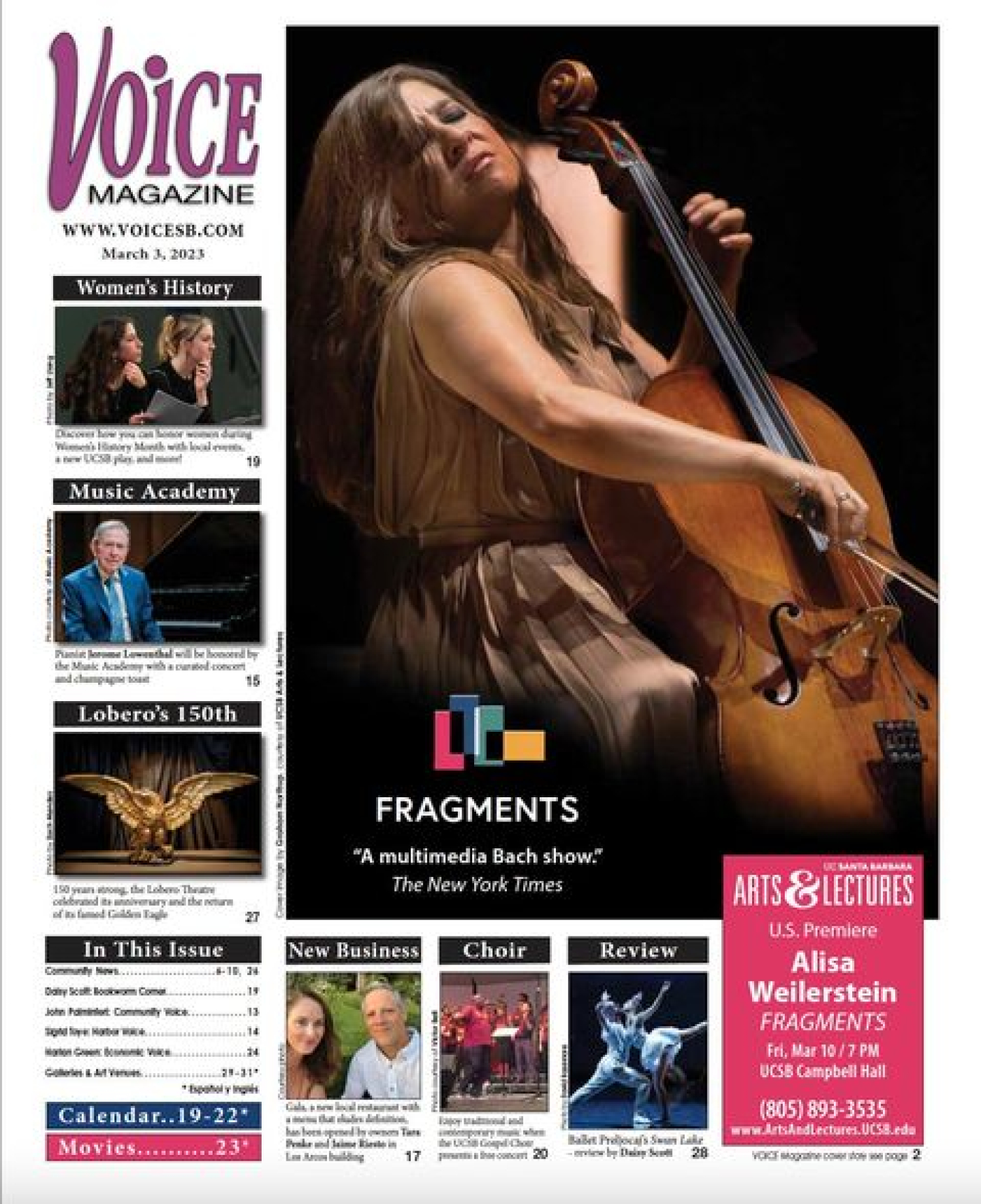 Lowenthal's Legend
Music Academy to Honor Faculty Emeritus Jerome Lowenthal
GREAT INSTRUCTORS ACCOMPLISH MORE THAN TEACHING CLASSES — they guide, support, and above all, inspire their students to pursue their goals with passion. Embodying this mindset, Music Academy faculty emeritus Jerome Lowenthal has served scores of Academy pianists for 50 years.
Jerry has done everything for me musically, poetically, paternally, professionally, personally... I can scarcely think of a person who had a greater singular influence on my life. My mother? Beethoven?" remarked pianist Evan Shinners. At 7pm on Thursday, March 9th, Music Academy and Santa Barbara music lovers will honor Lowenthal's remarkable legacy with a sold-out concert and champagne reception. Community members can request to be put on the concert's waitlist. Curated by Lowenthal himself, the concert will celebrate the piano's versatility as an instrument through performances by Lowenthal and five critically-acclaimed pianists: Ursula Oppens, Vassily Primakov, Evan Shinners, Nadia Shpachenko, and Lowenthal's daughter, Carmel Lowenthal. "I thought of the program not as roast beef (Beethoven or Reger) but as hors d'oeuvres, dessert, and champagne," explained Jerome Lowenthal. "I wanted each person to play a light version of his or her favorite music."
These festive samplings will include pieces written for two and four hands, spanning piano favorites by Mendelssohn, Chopin, Liszt, Couperin, and American composer Lewis Spratlan, who died just earlier this month. Pianist Evan Shinners will also perform works by Johann Sebastian Bach and his son, Wilhelm Friedemann Bach. Additional highlights will include the world premiere of composer Harold Meltzer's piece Dribble, and a joint performance of Gabriel Fauré's Dolly Suite by Lowenthal and his daughter. "My father has been the greatest musical influence in my life," shared Carmel Lowenthal. "He inspires me with his brilliant and poetic playing, fearless and energetic approach to learning new scores, excitement about musical projects, commitment to practicing, and dedication to teaching and mentoring young musicians."
Lowenthal, who is a student of piano greats William Kapell, Eduard Steuermann, and Alfred Cortot, has held a prestigious career as a classical pianist. He has performed at chamber music festivals worldwide, shining as a solo and duet artist by playing with musicians such as violinist Itzhak Perlman, cellist Nathaniel Rosen, and many of the pianists participating in Thursday's concert.
"Having been together for 26 years now, I feel each day with Jerry is a musical learning experience," said Ursula Oppens. His skill as a performer is rivaled by his capabilities as an instructor. In addition to teaching at the Music Academy for 50 summers, Lowenthal has taught at The Juilliard School since 1991. His Music Academy alumni have expressed sincere gratitude and anticipation in preparing to honor him during their March 9th concert. "He teaches as he plays, with an intense attention to line, counterpoint, inner voicing, structure, sound, artistic vision and, of course, pianism," said Carmel.
"Jerry has been a continuous source of inspiration for me - musically, artistically, spiritually, and emotionally," voiced Vassily Primakov. "I consider myself incredibly lucky to have him as a teacher and a mentor, and definitely a father figure in my life. I can't imagine my life without him..."
"One of my favorite activities at the Music Academy was performing for and watching Jerry teach masterclasses. He always involved the audience in the process, and both performers and audience members walked away from the classes inspired, having learned something new," said Nadia Shpachenko. "Jerry's knowledge, kindness, sense of humor, imagination, energy, and dedication to his students are legendary."
Concert waitlist spots are available through the Music Academy box office by calling 805-969-8787. To learn more visit www.musicacademy.org