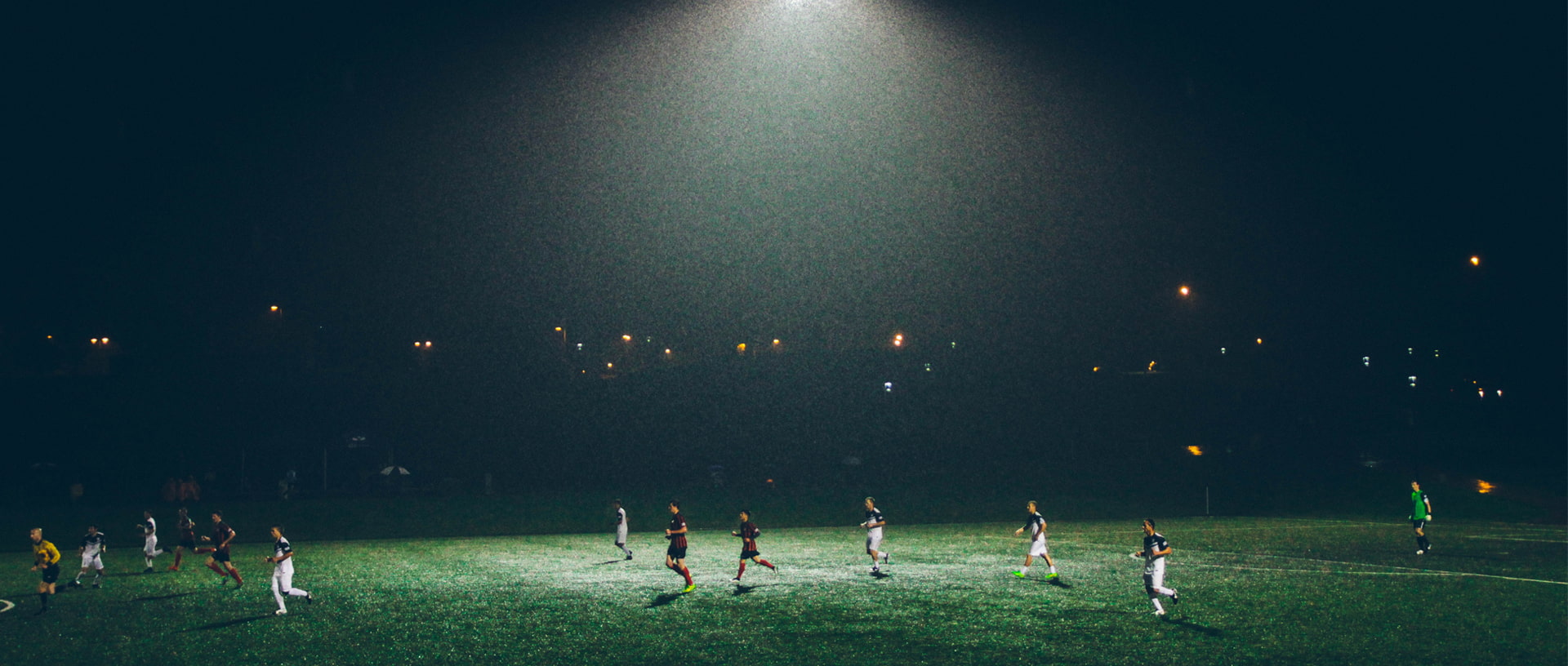 Photo by Abigail Keenan
Soccer-inspired piano recital
---
All works commissioned for Shpachenko's soccer piano project
Nadia Shpachenko
piano, voice, cleats, electronics
The beautiful game. The ballet of the masses. The real university. Soccer! Fútbol! Such a microcosm of the crushing disappointments, the exuberant triumphs, the grueling struggles that make up life. GRAMMY® Award-winning Ukrainian-American pianist Nadia Shpachenko has enlisted ten composers to capture the sounds, rhythms, spirit, and culture of the game for this new program of cutting-edge piano music, supported by New Music USA. New works by Christopher Cerrone, Ian Dicke, Oliver Dubon, Tom Flaherty, Dana Kaufman, Harold Meltzer, David Sanford, Adam Schoenberg, Evan Ware & Pamela Z will have you on the edge of your seat laughing, crying, and cheering with all the tensions and intensity of matchday.
Program
Christopher Cerrone Corridor of Uncertainty for piano and electronics (2022)
Harold Meltzer Dribble for solo piano (2022)
Pamela Z Balón for solo piano, tape, voice, and electronics (2021)
with Pamela Z, pre-recorded and sampled voice
David Sanford La Pulga Variations for solo piano (2021)
Ian Dicke Telstar Loops for piano and electronics (2021)
Dana Kaufman Honeyball for speaking pianist and soccer cleats (2021/2023)
Oliver Dubon The Hand of God for solo piano (2022)
Adam Schoenberg Last Dance for solo piano (2021)
Evan Ware Skillset for solo piano (2022)
Tom Flaherty Goal Mining for piano and electronics (2022)
About the composers
Christopher Cerrone (b. 1984) is internationally acclaimed for compositions characterized by a subtle handling of timbre and resonance, a deep literary fluency, and a flair for multimedia collaborations. Cerrone's recent opera, In a Grove, co-produced by LA Opera and Pittsburgh Opera, was called "stunning" (Opera News) in its sold-out premiere run. Other recent projects include A Body, Moving, a brass concerto for the Cincinnati Symphony; Breaks and Breaks, a violin concerto for Jennifer Koh and the Detroit Symphony; The Insects Became Magnetic, an orchestral work with electronics for the Los Angeles Philharmonic; The Air Suspended, a piano concerto for Shai Wosner; and Meander, Spiral, Explode, a percussion quartet concerto co-commissioned by Third Coast Percussion, the Chicago Civic Orchestra of the Chicago Symphony and the Britt Festival. Cerrone's first opera, Invisible Cities, was a 2014 Pulitzer Prize finalist, premiered by The Industry, directed by Yuval Sharon. In July 2019, New Amsterdam Records released his GRAMMY®-nominated sophomore effort, The Pieces that Fall to Earth, a collaboration with the LA-based chamber orchestra, Wild Up, to widespread acclaim. His most recent release, The Arching Path, released on In a Circle Records, was nominated for a 2022 GRAMMY® Award. He is the winner of the 2015–2016 Rome Prize and is a resident at Laurenz Haus in Basel, Switzerland from 2022–23. Christopher Cerrone holds degrees from the Yale School of Music and the Manhattan School of Music. He is published by Schott NY and Project Schott and in 2021 he joined the composition faculty at Mannes School of Music. He lives in Brooklyn with his wife, writer Carrie Sun.
Harold Meltzer (b. 1966) is inspired by a wide variety of stimuli, from architectural spaces to postmodern fairy tales and messages inscribed in fortune cookies. The first recording devoted to his music, released in 2010 on Naxos, was named one of the CDs of the year in The New York Times; the third recording—Songs and Structures, released in November 2018 on Bridge Records, made The New York Times list of the top 25 tracks of the year and was nominated for a GRAMMY® Award. And the second recording, released late in 2017 on Open G Records, elicited the most praise: an "enchanting and unpredictable release" (San Francisco Chronicle); "thrives on ample invention and an astute sense of color" (The Wall Street Journal); "summoning up sounds from his ensemble that seem nearly impossible" (American Record Guide); "a composer fully in charge of his powers, and in his prime" (Fanfare Magazine). A Pulitzer Prize Finalist in 2009 for his sextet Brion, Harold has been awarded the Rome Prize, the Barlow Prize, a Guggenheim Fellowship, and both the Arts and Letters Award in Music and the Charles Ives Fellowship from the American Academy of Arts and Letters. Commissions in recent years have issued from the Los Angeles Philharmonic, Pittsburgh Symphony, Orpheus Chamber Orchestra, the Fromm and Koussevitzky Music Foundations, New Music USA, the Library of Congress, Boston Chamber Music Society, Concert Artists Guild, the ASCAP Foundation for the New York Festival of Song, and the Brooklyn Art Song Society. Founder and co-director for fifteen years of the new music ensemble Sequitur, Meltzer lives in the East Village of Manhattan.
Pamela Z (b. 1956) is a composer/performer and media artist working primarily with voice, live electronics, sampled sound, and video. A pioneer of live digital looping techniques, she processes her voice in real time to create dense, complex sonic layers. Her solo works combine experimental extended vocal techniques, operatic bel canto, found objects, text, digital processing, and wireless MIDI controllers that allow her to manipulate sound with physical gestures. She has been commissioned by Kronos Quartet, Eighth Blackbird, Bang on a Can All Stars, Julia Bullock with SF Symphony, and the LA Philharmonic New Music Group. Her interdisciplinary performance works have been presented at venues including The Kitchen (NY), Yerba Buena Center for the Arts (SF), REDCAT (LA), and MCA (Chicago), and her installations have been presented at such exhibition spaces as the Whitney (NY), Savvy Contemporary (Berlin), and the Krannert (IL). Pamela Z has toured extensively throughout the US, Europe, and Japan. She has performed in numerous festivals including Bang on a Can (NY), Interlink (Japan), Other Minds (San Francisco), La Biennale di Venezia (Italy), Dak'Art (Sénégal) and Pina Bausch Tanztheater Festival (Wuppertal). She's a recipient of numerous awards including the Rome Prize, United States Artists, Robert Rauschenberg Foundation, the Guggenheim, Doris Duke Artist Impact Award, Herb Alpert Award, an Ars Electronica honorable mention, and the American Academy of Arts and Letters Award. She holds a music degree from the University of Colorado, Boulder.
Born in Pittsburgh, PA in 1963, David Sanford (b. 1963) received degrees in music theory and composition from the University of Northern Colorado, New England Conservatory, and Princeton University. His honors include fellowships from the American Academy in Rome, the Guggenheim Foundation, and the Radcliffe Institute. He was the subject of a Composer Portrait concert at Miller Theater and has recently been elected a member of the American Academy of Arts and Letters. He has received commissions from the Fromm Foundation, Chamber Music America, the Koussevitzky Foundation, the Barlow Endowment, and the Mary Flagler Cary Trust. In addition, his works have received performances by the Berkeley Symphony Orchestra under Kent Nagano, the Cabrillo Festival Orchestra under Marin Alsop, the Chamber Music Society of Lincoln Center, and the Chicago Symphony Chamber Players among many others. The Boston Modern Orchestra Project's recording of the composer's, Black Noise, was named one of "The 25 Best Classical Music Tracks of 2019" by the New York Times; and Haimovitz's disc Meeting of the Spirits with his cello ensemble UCCELLO, which featured seven jazz arrangements and one composition by Sanford, was nominated for a GRAMMY®Award. He is currently the Elizabeth T. Kennan Professor of Music at Mount Holyoke College, and the founder and director of the David Sanford Big Band whose recording A Prayer For Lester Bowie featuring Hugh Ragin was released on Greenleaf Music and topped several critics' lists for best jazz album of 2021.
Ian Dicke (b. 1982) is a composer inspired by social-political culture and music technology. Praised for his "refreshingly well-structured" (Feast of Music) and "uncommonly memorable" (Sequenza 21) catalogue of works, Dicke's music has been commissioned and performed by ensembles and soloists around the world, including the New World Symphony, Alarm Will Sound, the Cabrillo Festival Orchestra, Paul Dresher Ensemble, pianist Vicky Chow, The MATA Festival, ISCM World New Music Days, and the Atlantic Coast Center Band Director's Association. Dicke has received grants, awards, and recognition from the Hellman Foundation, Barlow Endowment, San Francisco Conservatory of Music, New Music USA, New York Youth Symphony, ASCAP, and BMI, among others. He was awarded a Fulbright Fellowship to research interactive musical interfaces and environments in Stockholm, Sweden and has served as an artist in residence at various institutions, including the MacDowell Colony and Atlantic Center for the Arts. In addition to his creative activities as a composer, Dicke runs Novel Music, a company that specializes in building unique and intuitive software instruments and effects designed to inspire new musical ideas. He is also the founder and curator of the Outpost Concert Series, which connects Riverside, California's musical culture with groundbreaking artists across the national contemporary music landscape. Dicke currently serves as an Associate Professor of Composition at the University of California, Riverside.
The work of Los Angeles-based composer Dana Kaufman (b. 1989) focuses on disruptive opera and vocal music, accessible and inclusive stages, and the intersection of pop culture and Western classical music. Hailed as "whirlwind" (Gramophone), "ingeniously derived" (Sequenza21), and "dramatic…and powerfully funny" (Observer), Kaufman's music has been heard throughout North America and Europe. Her works have been featured at venues and festivals such as Carnegie Hall, New York Opera Fest, Contemporary Music Center of Milan, Jordan Hall, Boston New Music Festival, Hartford Opera Theater, Ravinia Festival, and Opera on Tap Chicago; they have been commissioned by GRAMMY-winning pianist Nadia Shpachenko, the Louisville Ballet, Ireland's Carlow Arts Festival, OperaRox Productions, Paradox Opera, ensemble PHASE, and others. In November 2022, Adhyâropa Records released Emily & Sue, Kaufman's a cappella pop opera about Emily Dickinson's romantic relationship with her sister-in-law. A former Fulbright Research Fellow in Estonia, four-time American Prize honoree, and recipient of many other awards, Kaufman has given lectures at the LA Opera, Women Composers Festival of Hartford, Leuphana Universität Lüneberg, Estonian Academy of Music and Theatre, and the Music by Women Festival as a frequent speaker on women in composition and composing for trans voice. She received her B.A. (magna cum laude) in Music and Russian from Amherst College, her M.M. in Composition from New England Conservatory, and her D.M.A. in Composition from University of Miami Frost School of Music as the first Frost student to be a Dean's Fellow. Kaufman is Assistant Professor in Music Composition at University of California, Riverside.
Oliver Dubon (b. 1997) is a musician hailing from rural central Virginia. His compositions take inspiration from such sources as modernist literature, philosophy, and the rural countryside and have been performed at the Atlantic, highSCORE, Estonian Music Days, Red Note, and LaTex Festivals and by musicians such as Grammy™ – Award winning pianist Nadia Shpachenko, the Ónix Ensamble, Quartetto Indaco, and musicians of the Estonian National Symphony Orchestra. In 2021, Dubon was a Fulbright Student Researcher in Tallinn, Estonia where he studied composition with Toivo Tulev and orchestral conducting with Toomas Kapten. Dubon has held artist residencies at the Arvo Pärt Centre in Laulasmaa, Estonia as well as the Atlantic Center for the Arts in New Smyrna Beach, Florida where he was an associate artist working under Timo Andres. This past year, his work, Welcome, was chosen as a finalist for the ASCAP Morton Gould young composer award. His upcoming projects include a new work for the vocal ensemble Roomful of Teeth, two solo piano works for pianists Anthony Ratinov and Ayane Nakajima, and an installation work at the Turrell Skyspace at Rice University. His mentors in composition include composers Toivo Tulev, Thomas Flaherty, and Karl Kohn, as well as composer-conductor Eric Lindholm. Oliver currently studies at the Shepherd School of Music at Rice University in the studio of Kurt Stallmann. Previously, Oliver studied music composition at Pomona College, where he recieved a B.A. in 2020. He began composing at Pomona during his sophomore year, which still feels like yesterday.
Emmy Award-winning and GRAMMY® nominated Adam Schoenberg (b. 1980) has twice been named among the Top 10 most performed living composers by Orchestras in the United States. With more than 200 orchestral performances worldwide, his works have received performances and premieres at the Kennedy Center, Library of Congress, New York Philharmonic, San Francisco Symphony, National Symphony Orchestra, The Cleveland Orchestra, and twice with the Los Angeles Philharmonic at the Hollywood Bowl. Recent commissions include his percussion concerto (Losing Earth), violin concerto (Orchard in Fog) for Anne Akiko Meyers (2014 Classical Billboard Artist of the Year) and the San Diego Symphony, a concerto for orchestra for the Atlanta Symphony Orchestra, and a cello concerto inspired by artificial intelligence and automation. His latest album with the Kansas City Symphony was nominated for two GRAMMYs, including Picture Studies as Best Contemporary Classical Composition. For film and TV, Schoenberg has scored several projects including GRACELAND, which premiered at the Tribeca Film Festival, his Emmy Award-winning score to Artbound's (PBS/KCET) documentary THAT FAR CORNER: Frank Lloyd Wright in Los Angeles, and the current theme package for ABC's NIGHTLINE. Schoenberg received his Doctor of Musical Arts from The Juilliard School where he studied with John Corigliano (Academy Award-winning score to THE RED VIOLIN). He lives in Los Angeles with his wife, playwright and TV writer Janine Salinas Schoenberg, and their two sons, Luca and Leo.
Praised as "rich with vivid imagery" and "highly detailed and multi-layered" (New Music Box), Evan Ware's (b. 1977) music frequently confronts themes of alienation and trauma, while seeking to compassionately transform them through acceptance and recognition of innate beauty. Evan's recent work—particularly his symphonies, The Quietest of Whispers and Symphony No. 2—engage with his own survival from childhood sexual abuse and his desire to share his experiences to help others heal. Evan Ware's music has been performed in the United States, Germany, The Netherlands, New Zealand, and in Canada, as well as on CBC Radio 2, Michigan Radio, and WCMU. He has been privileged to work with such groups as the Akropolis Reed Quintet, the ÆPEX Sinfonietta, Orchestre Métropolitain du Grand Montéal, the Arraymusic Ensemble, the University of Michigan Javanese Gamelan Ensemble, and the Donald Sinta Saxophone Quartet. Current commissions include Station to Station for the Central Michigan University Symphonic Wind Ensemble and Playing With Signs for Atlanta's Chamber Cartel. Evan's music has been supported by the Barlow Endowment for Music Composition, the Canada Council for the Arts, and the City of Ottawa, among others. An active scholar in the field of music theory, Dr. Ware's research focuses on reinterpretation, meaning, and trauma survival in popular and multi-media music. His work has been published in Hardcore, Punk, and Other Junk: Aggressive Sounds in Contemporary Music. Dr. Ware has taught at the University of Michigan, Georgia State University, and Central Michigan University, and is now Assistant Professor of Music at Cal Poly Pomona University.
Tom Flaherty (b. 1950) is a composer and cellist who makes music for humans and electronics. Beneath a simple surface, his compositions are often motivated by colliding rhythms, meters, and tempos, amid widely ranging levels of dissonance. The identities of meters, harmonies, and even single pitches are often called into question, and can be heard in different ways by performers and listeners. Published by American Composers Editions and G. Schirmer, Inc., his compositions have been performed throughout Europe and North America, by such new music ensembles as Volti and Earplay in San Francisco, Dinosaur Annex in Boston, Speculum Musicae in New York, Xtet in Los Angeles; and by such performers as soprano Lucy Shelton; guitarists David Starobin, Peter Yates, and Matthew Elgart; cellists Maggie Parkins and Roger Lebow; violinists Sarah Thornblade and Rachel Huang; organist William Peterson; and pianists Genevieve Feiwen Lee, Nadia Shpachenko, Susan Svrček, Charlotte Zelka, Vicki Ray, Aron Kallay, and Karl and Margaret Kohn. His music has been recorded on the Albany, Bridge, Capstone, Klavier, Reference, and New Focus labels, and have received numerous awards, including a GRAMMY® nomination in 2015. He earned degrees at Brandeis University, S.U.N.Y. Stony Brook, and the University of Southern California; his primary teachers in composition include Martin Boykan, Bülent Arel, Robert Linn, and Frederick Lesemann. He currently holds the John P. and Magdalena R. Dexter Professorship in Music and is Director of the Electronic Studio at Pomona College.
About Nadia Shpachenko
A "gifted and versatile pianist" (San Francisco Chronicle) and GRAMMY® Award winner Nadia Shpachenko enjoys bringing into the world things that are outside the box—powerful pieces that often possess unusual sonic qualities or instrumentation. Nadia's concert highlights include recitals at Concertgebouw, Carnegie Hall, Disney Hall, on the Piano Spheres and Los Angeles Philharmonic's Green Umbrella and Chamber Music Series, and with orchestras in Europe and the Americas. An enthusiastic promoter of contemporary music, Shpachenko premiered more than 100 works by Zoltan Almashi, Armando Bayolo, Elliott Carter, Christopher Cerrone, Paul Chihara, George Crumb, Ian Dicke, Daniel Felsenfeld, Tom Flaherty, Annie Gosfield, Yuri Ishchenko, Vera Ivanova, Dana Kaufman, Leon Kirchner, Amy Beth Kirsten, Han Lash, James Matheson, Missy Mazzoli, Harold Meltzer, Evgeni Orkin, David Sanford, Isaac Schankler, Alexander Shchetynsky, Adam Schoenberg, Lewis Spratlan, Evan Ware, Gernot Wolfgang, Iannis Xenakis, Peter Yates, Pamela Z, Jack Van Zandt, and many others.
Described as "powerful… impressive… haunting" (Gramophone), Nadia's album Invasion: Music and Art for Ukraine features premiere recordings of music by Pulitzer Prize-winning composer Lewis Spratlan and art by numerous Ukrainian artists, with 100% of proceeds donated to Ukraine humanitarian aid. Nadia's 2019 Reference Recordings album The Poetry of Places, featuring premieres of architecture-inspired works, won the Best Classical Compendium GRAMMY® Award. She can be heard on seven other internationally released albums of world premieres.
Nadia Shpachenko holds a Doctor of Musical Arts degree from the University of Southern California. Her principal teachers included John Perry, Victor Rosenbaum, and Victor Derevianko. Born in Kharkiv, Ukraine, she is a Steinway Artist, Schoenhut Toy Piano Artist, and professor of music at Cal Poly Pomona University.